SARAJEVO
Bosnia and Herzegovina
25.06. - 22.08.2021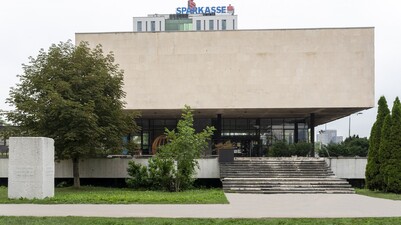 EVROVIZION.CROSSING SARAJEVO
HISTORIJSKI MUZEJ BOSNE I HERZEGOVINE
22.06. - 22.08.2021
Zmaja od Bosne 5
71 000 Sarajevo
Bosnia and Herzegovina
https://muzej.ba/
EVROVIZION.CROSSING STORIES AND SPACES is an exhibition project by ifa (Institut für Auslandsbeziehungen) and is organized in Sarajevo in cooperation with the History Museum of Bosnia and Herzegovina and with the support of the Goethe-Institut Bosnia and Herzegovina.
Sarajevo (Сарајево, Saray), the first venue for the EVROVIZION project, is considered to be the 'Jerusalem of the Balkans' and is the capital city and seat of government of Bosnia and Herzegovina, the Federation of Bosnia and Herzegovina (Federacija Bosne i Hercegovine/FBiH) and the Canton of Sarajevo.
It was a scene of the 1914 attempt on the life of the successor to the throne of Austria-Hungary that triggered the outbreak of the First World War, and which suffered nearly four years of siege right in the middle of Europe during the war of the 1990s, has become a symbol for the break-up of Yugoslavia. In spite of the postwar traumas Sarajevo is still experiencing today, the city has retained its multicultural diversity. Questions as to European identity and how different ethnic groups can live together remain particularly relevant here.
SARAJEVO: POTRAIT OF AN INWARD CITY
by Dževad Karahasan
Some hundert years after its foundation, the city had brought together people of all the monotheistic religions, and the cultures derived from those religions, and the cultures derived from those religions, numerous different language and the ways of life associated with those languages. It became a microcosm, a centre of the world which, like all cetre in the teaching of the Esoterics, contains the entire world. (…) everything that is possible in the world may be found in Sarajevo, in miniature, reduce to its essence, it is there because Sarajevo is the centre of the world. (…) That may be because, like other Bosnian town, Sarajevo is so completely shut off from the outside world, turned in on itself and into itself. It may be because the world needs a city whch, like a crystal ball, would contain its essence, or maybe there Is a third reason. I don't know, but I do know that's how it is.
Karahasan, Dževad, Sarajevo: Portrait of an Inward City in Balkan Blues: Writing Out of Yugoslavia, Northwestern University Press, 1. Edition, Evaston, USA, 1995.
PRESENTATION IN SARAJEVO
Historijski muzej Bosne i Hercegovine
Responsable:
Elma Hašimbegović
Organisation:
Emina Čalija
Technical team:
Sanel Gluhović, Elvir Porić
EXHIBITION
ifa (Institut für Auslandsbeziehungen)
Responsable:
Ellen Strittmatter
Curators:
Sabina Klemm, Sanja Kojić Mladenov
Organisation and Realisation:
Sabina Klemm
Team ifa:
Nina Bingel, Clea Laade, Laura Wünsche
Technical team:
Martin Edelmann, Manuel Reinartz. Carsten Tabel
Texts:
Sabina Klemm, Sanja Kojić Mladenov, Clea Laade, Ellen Strittmatter
Translation:
Adnan Arnautlija, Amina Badnjević-Bešić, Nathan Bailey, Greg Bond, Jeanette Mohr
Proofreading:
Nathan Bailey, Greg Bond, Jeanette Mohr
Video subtitles:
Adnan Arnautlija, Simone Kinateder, André Werner
Graphic Design:
Heimann + Schwantes, Berlin
heimannundschwantes.de
Communication Strategy:
Purpel Key Agency
https://purplekey.ba/
THANK YOU
Rijad Ahmetović, Adnan Arnautlija, Hana Ćurak, Patricia Couvet, Amina Badnjević-Bešić, Nathan Bailey, Eric Bajramović, Robert Baramov, Frank Baumann, Alen Beširević, Nina Bingel, Greg Bond, Aida Begić, Igor Bošnjak, Emina Čalija, Vajiko Chachkhiani, Lana Čmajčanin, Johanna Diehl, Martin Edelmann, Ajla Eljšani-Arnautlija, Irmgard Maria Fellner, Sanel Gluhović, Snežana Gvozdenac, Petrit Halilaj, Nicola Halschke, Elma Hašimbegović, Michael Heimann, Elma Hodžić, Srđa Hrisafović, Damir Imamović, Janine Jembere, Amar Karapuš, Simone Kinateder, Merima Ključo, Clea Laade, Florian Lüdde, Angela Loschke, Ljiljana Maletin Vojvodić, Andrijana Mandić, Daniel Marzona, Tanja Milewsky, Jelena Milušić, Florian Model, Jeanette Mohr, Handina Murandu, Henrike Naumann, Stan de Natris, Christoph Perl, Stefanie Peter, Elvir Porić, Sebastian Probst-Lübeck, Amila Ramović, Manuel Reinartz, Serena Rota, Christin Rothe, Natalia Sartori, Oliver Schöllhuber, Martin Schuhmacher, Jens Schüring, Hendrik Schwantes, Selma Selman, Sunčica Šido, Monika Simm, Emilija Škarnulytė, Slavs and Tatars, Nora Turato, Adnan Softić, Darko Šobot, Almir Suruntić, Bojan Stojčić, Hana Stojić, Carsten Tabel, Clarissa Tempestini, Wilma Tolksdorf, Nevena Valcheva, Lara Wehrs, André Werner, Laura Wünsche
Artists