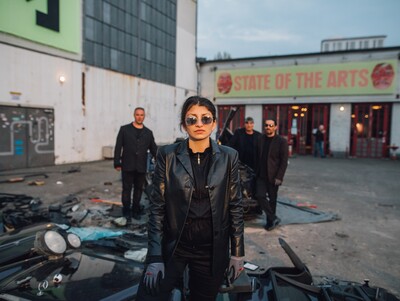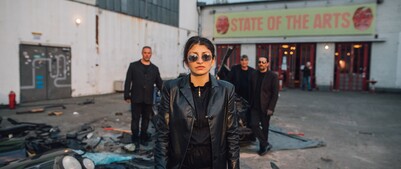 Selma Selman's work is based on her own experience. In her drawings, paintings, performances and multimedia installations, she aims to protect female bodies and encourage collective self-emancipation of oppressed women.
Selma Selman (b. 1991 in Bihac/BA) earned her bachelor's of fine arts from Banja Luka University's Department of Painting/BA (2014) and graduated from Syracuse University with a Master's of Fine Arts – Transmedia, Visual and Performing Arts, NYC/US (2018). In her artworks, her ultimate aim is to protect and enable female bodies and enact a cross-scalar approach to the collective self-emancipation of oppressed women. Her search for functional, contemporary political resistance stems from her personal experience with forms of oppression from various sources. She is a founder of the organisation Get The Heck To School, aiming to empower Roma girls who face ostracisation from society and poverty. Selman lives in Bosnia and Herzegovina, in the USA and across the whole of Europe.
Selman's works have been exhibited among others at: Kunsthalle Wien/AT (2020); L'Onde Center for Art, Paris/FR (2020); 58th Venice Biennale/IT (2019); Queens Museum, NYC/US (2019); Villa Romana, Florence/IT (2019); The Creative Time Summit, Miami/US (2018); 3rd Berlin Herbstsalon, Maxim Gorki Theatre, Berlin/DE (2017); acb Gallery, Budapest/HU (2017); agnès b. Galerie Boutique, NYC/US (2017); Good Children Gallery, New Orleans/US (2016); Kunstquartier Bethanien, Berlin/DE (2016); Museum of Contemporary Art, Banja Luka/BA (2014).
The following art works will be shown as part of the EVROVIZION.CROSSING STORIES AND SPACES project:
Viva La Vida, video performance, 10', Bihać/BA, 2017.
© Selma Selman
The video performance Viva La Vida shows the artist Selma Selman sitting in a frontal position, a hanging carpet in the background. With the utmost of care, she uses her fingers to hollow out a watermelon, eating its fruit and drinking its juice. Her gaze is fixed on the viewer throughout. The composition is reminiscent of a living icon of a saint. Selman's self-depiction and her staging of the setting are each rich in symbolism. While the dress she is wearing references her Roma heritage, the carpet's ethnological pattern draws on the traditional craft of weaving in the Balkans that is primarily the preserve of women. The watermelon is associated with the principles of fertility and femininity. The carpet and the dress are reflective of tradition, identity and origin. Yet in spite of these points of reference, the work does not convey a purely conventional image of women. Instead, the act of eviscerating the watermelon is suggestive of a certain brutality, strength, pride, provocation and emancipation, each of which is reinforced by the artist's presence.
Do Not Be Like Me, poster photography, fine art print, colour, dimensions variable, Bihać/BA, 2019.
© Selma Selman
The work Do Not Be Like Me displays a picture of Selma Selman and her mother. Ever since she was little, Selman has been told one thing over and over again: "Do not be like me." Her mother, who was born in 1967, was married at the age of thirteen in a traditional, arranged Roma marriage. As a wife and mother, she had neither a normal childhood nor a chance to go to school. The photograph shows the physical resemblance between mother and daughter, yet their lives could not have been more different. Following the advice of her mother, the daughter received the education that had been denied to her mother. She went to university, became an internationally active artist and a teacher, and leads a life of her own choosing. With her drawings, paintings, performances and multimedia installations, she advocates for the protection of women's bodies and for the collective self-emancipation of oppressed women.
You Have No Idea, video performance, sound, 30', Kunstquartier Bethanien, Berlin/DE, 2016.
© Selma Selman
In the video performance You Have No Idea, Selma Selman spends thirty minutes saying the same thing over and over again: "You have no idea." In doing so, she employs various tones of voice. She screams to the point of unconsciousness. As a native of Bosnia, she stages her performance in the form of a mantra, subtly referencing discrimination against minorities and the treatment of indignities and prejudices that results. Yet her work is not intended as an accusation; instead, her focus is on creating a consciousness and awareness of other and different life realities. Selman takes her heritage and her life story as a starting point from which to draw attention to injustices and the creation of stereotypes. Her work focuses on both collective and individual internal and external perceptions, illuminating these and rendering them visible. The video was filmed on 12 June 2016 during the performance in Studio 1 at Kunstquartier Bethanien in Berlin that took place as part of the Hero Mother exhibition.
These artworks are part of the ifa art collection.