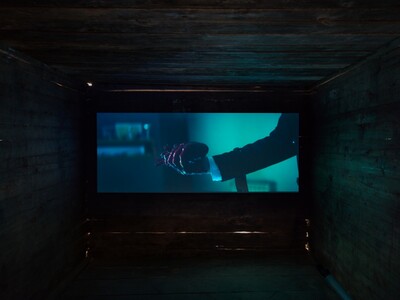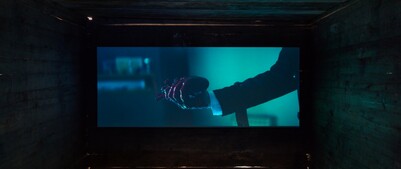 Vajiko Chachkhiani creates intersections between the outer world and the mind in subtle visual poetry. His films, sculptures, performances, photographs and large installations link human emotions with themes from politics, religion and literature.
Vajiko Chachkhiani (b. 1985 in Tbilisi/GE) studied mathematics and informatics at the Technical University Tbilisi/GE (2000–2003) and then attended the University of the Arts, Berlin/DE (2010/2014). His work includes films, sculptures, performances, photographs and large-scale installations. By using a subtle and intriguing visual poetry, Chachkhiani creates intersections between reality, the outer world and the human psyche. Although some of his works tend formally to minimalism, they are all nonetheless charged with narrative. He interweaves psychological conditions such as loneliness, violence and angst with topics from religion, politics, literature and poetry. Reoccurring themes in his works are conflict, culture/nature and the oscillation between the outer reality and the inner life of the individual. Chachkhiani lives and works in Berlin/DE and Tbilisi/GE.
Chachkhiani's works have been exhibited among others at: Art Basel Unlimited, Basel/CH (2019); Berlinische Galerie, Berlin/DE (2019); Galleria de' Foscherari, Bologna/IT (2019); The Bathhouse Gallery, Tokyo/JP (2018); Bundeskunsthalle, Bonn/DE (2018); Turku Art Museum, Turku/FI (2018); Georgian Pavilion at the 57th Venice Biennale, Venice/IT (2017); Museum für Gegenwartskunst, Siegen/DE (2014).
The following artwork will be shown as part of the EVROVIZION.CROSSING STORIES AND SPACES project:
Glass Bones, video installation, Shivering Heart, film, 10', wooden barn, 240 × 300 cm, Tbilisi/GE, 2018.
© Vajiko Chachkhiani
Vajiko Chachkhiani's video installation Glass Bones consists of a small, traditional Georgian wooden barn. Here you can see the film Shivering Heart, Chachkhiani's modern adaptation of a Georgian folk tale – a story about a son, his mother and his lover. Sandro, a 23 year-old who lives with his mother, is in love with Elene, but his feelings are not reciprocated. In fact, he does not matter to her at all. It is a story of desire, love and manipulation. The work calls into question the concept of identity, family and belonging. In his work, Chachkhiani links the tradition and mythology of his homeland Georgia with psychological states and emotions. Using a subtle visual poetry, Chachkhiani creates interfaces between reality, the outside world and the human psyche.
This artwork is part of the ifa art collection.