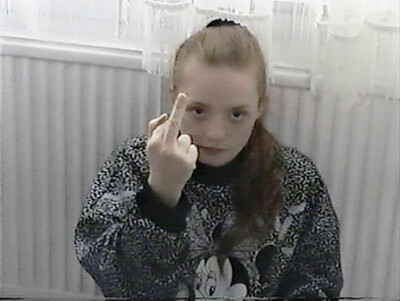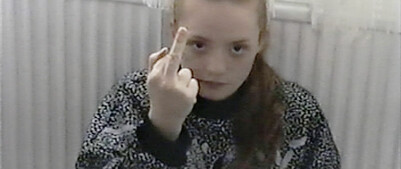 Henrike Naumann's installations reflect socio-political issues on the level of interior design and domestic spaces. She is interested in mechanisms of radicalisation – growing up in East Germany, she than experienced extreme right ideologies in youth culture in the 1990s.
Henrike Naumann (b. 1984 in Zwickau/DE) graduated in stage and costume design from Dresden University of Fine Arts/DE (2008) as well as in set design from the Film University Babelsberg Konrad Wolf/DE (2012). She reflects sociopolitical problems on the level of interior design and domestic space and explores antagonistic political beliefs through the ambivalent aesthetics of personal taste. In her immersive installations she arranges furniture and home decor into scenographic spaces interspersed with video and sound work. Growing up in eastern Germany, Naumann experienced extreme-right ideology as a predominant youth culture in the 1990s. Therefore, she is interested in the mechanisms of radicalization and how they are linked to personal experience. Although rooted in her experiences in Germany, her work addresses the global connectivity of youth cultures and their role in the processes of cultural othering. Nauman lives and works in Berlin/DE.
Naumann's works have been exhibited among others at: Haus der Kunst, Munich/DE (2019–2020); Museum der Bildenden Künste, Leipzig/DE (2019); Belvedere 21, Vienna/AT (2019); Museum Abteiberg, Mönchengladbach/DE (2018); MMK, Frankfurt am Main/DE (2018); Steirischer Herbst, Graz/AT (2018); Busan Biennale, Busan/KR (2018); Ghetto Biennale, Port-au-Prince/HT (2016); Musée d'Art Contemporain et Multimédia, Kinshasa/CG (2016).
The following artwork will be shown as part of the EVROVIZION.CROSSING STORIES AND SPACES project:
TRIANGULAR STORIES, 2012–2018, mixed-media installation, comprising various furniture and accessories, two videos: TERROR and AMNESIA, each 4:3, colour, sound, 15'24'', Bratislava/SK, 2018. 
© Henrike Naumann
In her work TRIANGULAR STORIES, Henrike Naumann arranges various items of furniture and interior décor from the 1990s to create a room in which the two video works TERROR and AMNESIA are shown. By means of what are purportedly two VHS home videos, Naumann transports the viewer into the lifeworld of teenagers in 1992. In each of these videos, the action is centred on a group of three adolescents. The first video reflects the hedonistic lifestyle of the young party generation of the early 1990s: drugs and partying to excess on Ibiza until a state of unconsciousness is reached - AMNESIA. The second video is set in Jena, a city in eastern Germany. Here, the observer is greeted with violent assaults, shouts of "Sieg Heil" and vandalism - TERROR. In her work, the artist explores her generation's hedonistic drive to optimise the self and the mechanisms of radicalisation. Neither her groups of three nor her time period were chosen at random. Having grown up in Zwickau, in the 1990s Naumann experienced far-right ideology as the dominant youth culture in eastern Germany. Through her works, she was very quick to respond to what was happening around her – the revival of nationalist violence and the discovery of the NSU underground terrorist network (a core trio comprising Beate Zschäpe, Uwe Böhnhardt and Uwe Mundlos and their considerably larger network of supporters) in Zwickau that, unnoticed, conceived a campaign of rightwing terror and then began acting on these plans in the late 1990s.
This artwork is part of the ifa art collection.