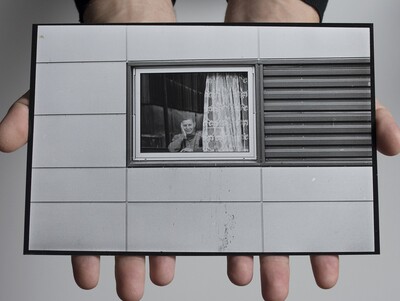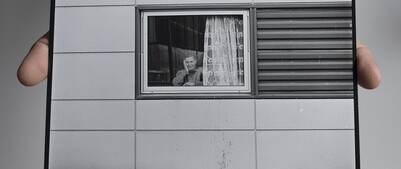 Adnan Softić's interdisciplinary work addresses historical and political remembrance, examining the relationships between architecture and violence, narration and exile. He describes his artistic approach as "post-traumatic entertainment."
Adnan Softić (b. 1975 in Sarajevo/BA) studied film and aesthetic theory at the University of Fine Arts in Hamburg/DE (1999–2004), where he also taught as a professor of film and time-based media (2012, 2014–2015). Softić is an author, visual artist and director. In his interdisciplinary works he addresses the politics of historical remembrance, examining the relationships between architecture and violence and narration and exile, and dealing with extraterritoriality, invisibility and postcolonial criticism. Like his native city Sarajevo, Softić's works are complex and multi-layered. He describes his artistic approach as 'post-traumatic entertainment,' which aims to bring together incompatible perspectives. Softić had a scholarship at the German Academy Rome Villa Massimo/IT (2016–2017) and has recently held a working fellowship of the Senate of Berlin/DE (2020). His work Bigger Than Life won the Grand Prize of the International Competition of the Internationale Kurzfilmtage Winterthur/CH (2018) as well as the 3sat Prize at the 64th International Short Film Festival Oberhausen/DE (2018). Softić lives and works in Berlin.
Softić's works have been exhibited among others at: Johann Jacobs Museum, Zurich/CH (2019); Elbphilharmonie, Hamburg/DE (2019); Collegium Artisticum, Sarajevo/BA (2019); MAXXI Museum, Rome/IT (2018/2019); Berlinische Galerie, Berlin/DE (2018).
The following artwork will be shown as part of the EVROVIZION.CROSSING STORIES AND SPACES project:
Room to Negotiate, installation, furniture made of wood and metal, shelf and tables, containing: videos, photos, books, texts, sound, all cities comprising the EVROVIZION tour, 2020–2027.
© Adnan Softić
As part of a multi-month process, the artist Adnan Softić collaborated with the EVROVIZION team to create archive furniture that would reflect and illuminate the complexity and processuality of the project. Taking an overarching and ever unchanging premise as a starting point, Softić develops a new multimedia artwork for each project venue: is the open society really a modern concept, or has this always existed? Are there, or were there, narratives that might be relevant for the Europe of today? The countries in which the exhibition is to be shown can be seen as part of Europe's so-called periphery. Over the centuries, these areas have repeatedly been home to a diversity of multiple ethnic groups living together. In collaboration with local fugures, Softić will use his artistic works to study and explore the idea of living diversity. More than anything, these works delve into the question as to why this diversity has so often been suppressed. The resultant series of works will link these places and make possible new synergies. Like a travelling, open archive, the work will grow and change continuously as the project progresses from venue to venue, creating a new image of Europe that may be unknown to us.
This artwork is part of the ifa art collection.