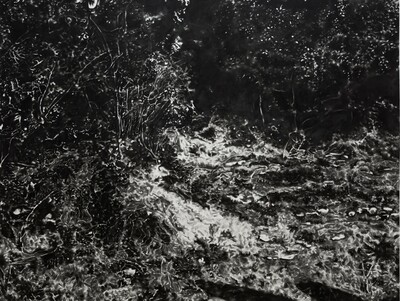 The artist Vladimir Miladinović addresses historical memory as it is presented in contemporary media and narratives, questioning our picture of the past. He looks critically at how post-war discourse informs public spaces and collective remembering.
Vladimir Miladinović (b. 1981 in Belgrade/RS) explores the politics of remembering, media manipulation, and the creation and reinterpretation of history. His work engages with war and post-war trauma, looking at the media, forensics, political and ethical identification, and the presentation of war crimes, as well as addressing current transitional ideologies of denial and erasure. Miladinović questions how media and institutions in the post-war societies create public spaces, consequently shaping collective memory. He uses art as a forum to offer a counter-public sphere that raises questions about war, media propaganda, the manipulation of narratives, historical responsibility and intellectual engagement. Vladimir Miladinović was the laureate of the 53rd October Salon Award in Belgrade/RS and has exhibited widely across Europe, at the SMBA – Stedelijk Museum Bureau (Amsterdam/NL), Artium – Basque Museum Centre of Contemporary Art (Vitoria/ES), Münchner Stadtmuseum (Munich/DE), Salzburger Künstverein (Salzburg/AT), FreiraumQ21 – Museumsquartier (Vienna/AT), and CACT Thessaloniki Center Of Contemporary Art (Thessaloniki/GR).
The following artwork will be shown as part of the EVROVIZION.CROSSING STORIES AND SPACES project:
Disturbed Soil, charcoal drawing on paper, framed, 162 x 232 cm, Belgrade/RS, 2021.
© Vladimir Miladinović
In his work Miladinović deals with war and post-war trauma. The Disturbed Soil series includes large-format charcoal drawings that at first glance only show natural landscapes – forests, mountains, meadows and rivers. The archive numbers and the aesthetics of the black-and-white photography, however, indicate that there is a story hidden behind each quiet landscape image.
The drawings are based on photographs of crime scenes that the artist has "translated," copying and enlarging archived evidence photographs taken by forensic investigators at the International Criminal Tribunal for the Former Yugoslavia (ICTY).
With this, Miladinović raises the evidence – a small photo – to an artistic level and gives the history of the places depicted a meaning that goes beyond the archival. The pictures show no victims, no perpetrators and no deeds – just the locations where the crimes took place. Miladenović's drawings demonstrate that these non-visible crimes are still among us, in our living environments, with uncanny effect.
Miladinović addresses the history of his country, and, like a surgeon, cuts through the surfaces and reveals the invisible.